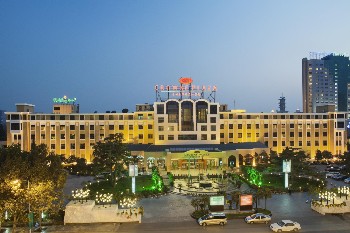 Crowne plaza zhengzhou is located in the golden waterway of zhengzhou city, withmany bus lines in front of gate, which is the main line of zhengzhou metro line 1. Walk 2.1 kilometers to zijingshan station where metro line 1 and line 2 meet. It is about 5.1 kilometers away from Zhengzhou international convention and exhibition center. In 2015, new renovation, chic and decorous Nordic wind holds concurrently the high-tech element of current popularity, the floor type glass window of the room lets a room capacious and bright, although be far from the street, the flourishing scene of the city still panoramic view. The style of European garden type covers a variety of rare flowers and trees all over among them, flourishing flowers like brocade, four seasons like spring, the natural oxygen bar in the city. The hotel has a variety of restaurants and lounges. Palm court restaurant will provide you with a luxurious seafood buffet and delicious food, a cup of cappuccino and sweet snacks. Mamma Mia Italian restaurant is the focal point in the city, the Italian exquisite cuisine led by the chef, feel like being in Venice as romantic feelings.
The hotel's ornate lobby features dark granite floors, stone columns capped with gold-colored ornamentation and frothy palm trees. It includes three restaurants, a business center with meeting rooms and fitness facilities. Analog dial-up internet access is available in public areas.
The five star hotel's 195 guestrooms include kitchenettes with full-size refrigerators, microwave ovens, and coffee and tea makers. Rooms also offer cable and satellite television, three telephones, complimentary newspapers and safes.